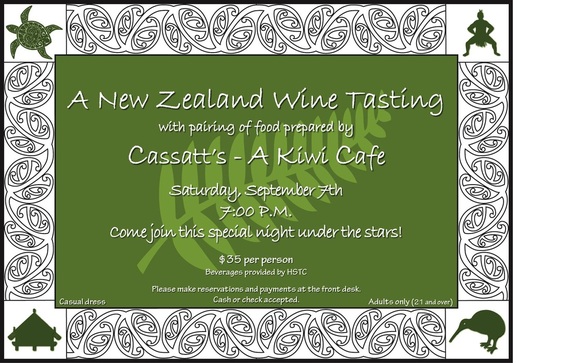 The night includes a Wine Tasting with wine pairings selected and presented by a local expert!
Haven't had New Zealand wine? You won't want to miss this hallmark event as selections are being specially picked out to demonstrate the range and excellence of New Zealand wine. And what could be better than having someone who really knows that wine and brings out the best of the flavor through a selection of complementary food!
Food by Cassatt's - A Kiwi Cafe

1st Course
New Zealand Pinot Gris...with Cold red curry and butternut squash with diced fresh mango

2nd Course
New Zealand Sauvignon Blanc...New Zealand green lip mussels and shrimp ceviche style; Green apple, cucumber, grapefruit and lime juice

3rd Course
New Zealand Pinot Noir...Leg of lamb and exotic mushrooms in a flaky pastry topped with celery root mashed potato; Cranberry chutney

4th Course
New Zealand Blend...Beef roulade with spinach, sumac, fennel braised in a Black olive red wine sauce; Quinoa and carrot dariole

5th Course
Pavlova with berries and kiwi fruit; Passion fruit sauce


Cassatt's

is a cozy, bistro-style restaurant serving tasty dishes featuring a New Zealand flair. Located in the Lee Heights shops on Lee Highway in Arlington, they serve Breakfast, Lunch, Dinner and Weekend Brunch, with specialty coffees, wines and homemade desserts.

---

Why name a cafe after Mary Cassatt?

Cassatt's is a gallery for local artists that offers art classes as well as being a Kiwi Cafe!

And yes, this Mary Cassatt really is the American impressionist who painted with Monet, Manet, Degas, and the other French impressionists. Click

here

for more on Mary Cassatt.

Many of our artists evoke the style of Mary Cassatt and the impressionists in their work


Want to know more about New Zealand Wines?

There are 10 different wine regions in New Zealand spread across the island from North to South. Wine styles you are familiar with are featured - Sauvignon Blanc, Pinot Gris, Chardonnay, etc. - and are regular award winners!

Visit the

official website of New Zealand Wine

for more (and amazing photos of this incredibly beautiful country)!

---

---

Where is Cassatt's?